---
Oct 30 | 2019
Damen preparing Clipper vessel to undertake world tour promotion of UN Sustainable Development Goals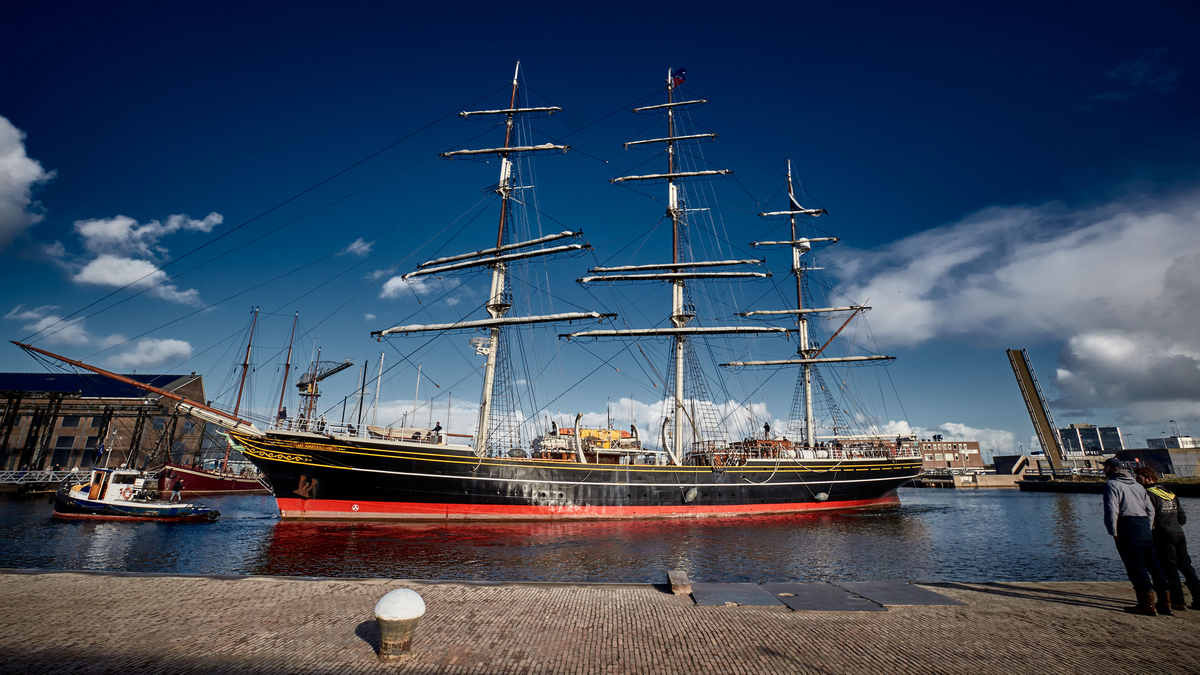 On 28
th
October, the iconic Clipper
Stad Amsterdam
arrived early in Den Helder in sunny weather, after a calm voyage from Amsterdam. After watching her arrival, invited guests were given a tour of the vessel by Captain Moritz Kuhlenbäumer, who provided details of the vessel's forthcoming maintenance programme in Den Helder's historic Willemsoord harbour. The maintenance will prepare
Stad Amsterdam
for her green ambassadorial role, during which she will sail to seventeen destinations around the world promoting the seventeen UN Sustainable Development Goals.
During the five-month maintenance programme, Damen Shipyards Den Helder will carry out a scope of work that will increase the efficiency and sustainability of the Damen-built vessel. This includes replacement of her main engines and diesel generators for equipment with improved levels of efficiency. They will also exchange her sewage installation for a new one that extracts sewage residue, purifying the water for clean, safe disposal.
The UN Sustainable Development goals are adopted by all UN member states as a call for action to promote prosperity while protecting the environment. They represent a plan to build a better world for people and the planet by 2030.
During the voyage, the vessel will make seventeen stops, beginning in Amsterdam and finishing in New York. At each of the stops, the mission will focus on one of the seventeen goals, reaching in total 500 million people with the message of the Sustainable Development Goals.
Stad Amsterdam's
visit to Den Helder will coincide with the city's Traditional Ship Festival, during which she will be visible to visitors. Following completion of the works, the vessel is scheduled to take part in Sail 2020 in Amsterdam, prior to embarking on her historic voyage in support of sustainability.
Evert van Dishoek, director of the Clipper
Stad Amsterdam
, is pleased that the vessel is able to attend this special location for this large-scale refit. "Damen Shipyards Den Helder can properly accommodate our project at the Oude Rijkswerf with the dock capacity and the experience they have. Damen has also good facilities for deck work and rigging work, some of which will be carried out by our own crew. The clipper is dry berthed in dock two and will be visible to visitors during the refit."
Damen Shipyards Group has committed itself to the UN Sustainable Development Goals and is proud to play its part in preparing the
Stad Amsterdam
for her important role.
The
Stad Amsterdam
was delivered by Damen in 2000. She combines the best construction methods of the past with those of the present, with a classic look and feel. The vessel is 76 metres in length and features 31 sails with a total area of 2,200 m
2
. She sails under the Dutch flag and is available for business events, luxury cruises and adventurous sailing trips.
Damen Shipyards Group
Damen Shipyards Group operates 36 shipbuilding and repair yards, employing 12,000 people worldwide. Damen has delivered more than 6,500 vessels in more than 100 countries and delivers around 175 vessels annually to customers worldwide. Based on its unique, standardised ship-design concept Damen is able to guarantee consistent quality.
Damen's focus on standardisation, modular construction and keeping vessels in stock leads to short delivery times, low 'total cost of ownership', high resale values and reliable performance. Furthermore, Damen vessels are based on thorough R&D and proven technology.
Damen offers a wide range of products, including tugs, workboats, naval and patrol vessels, high speed craft, cargo vessels, dredgers, vessels for the offshore industry, ferries, pontoons and superyachts.
For nearly all vessel types Damen offers a broad range of services, including maintenance, spare parts delivery, training and the transfer of (shipbuilding) know-how. Damen also offers a variety of marine components, such as nozzles, rudders, winches, anchors, anchor chains and steel works.
Damen Shiprepair & Conversion (DSC) has a worldwide network of eighteen repair and conversion yards of which twelve are located in North West Europe. Facilities at the yards include more than 50 floating (and covered) drydocks, including the longest, 420 x 80 metres, and the widest, 405 x 90 metres, as well as slopes, ship lifts and indoor halls. Projects range from the smallest simple repairs through Class' maintenance to complex refits and the complete conversion of large offshore structures. DSC completes around 1,300 repair and maintenance jobs annually, both at yards as well as in ports and during voyage.
The SDG World Tour
The SDG World Tour Foundation forms a global ecosystem where multiple stakeholders contribute to accelerate the Sustainable Development Goals. Through co-creation and the sharing of expertise, businesses, the government, foundations, knowledge institutes, NGOs and local communities are enabled to work together. The SDG World Tour forms three legacies: on ship, on shore, and online. The outreach will be substantial: 500 million people will be reached to empower them to take part in achieving the SDGs by 2030. The global community is given the opportunity to share their suggestions on initiatives through online channels. Our goal is to make youth feel empowered to make their contributions to a sustainable future for all.
The SDG World Tour will sail out from Amsterdam on the 16th of August 2020 to arrive in New York in September 2022, having been to 17 destinations and activating the global society to realise the 17 goals by 2030.​​ More info at
www.sdgworldtour.com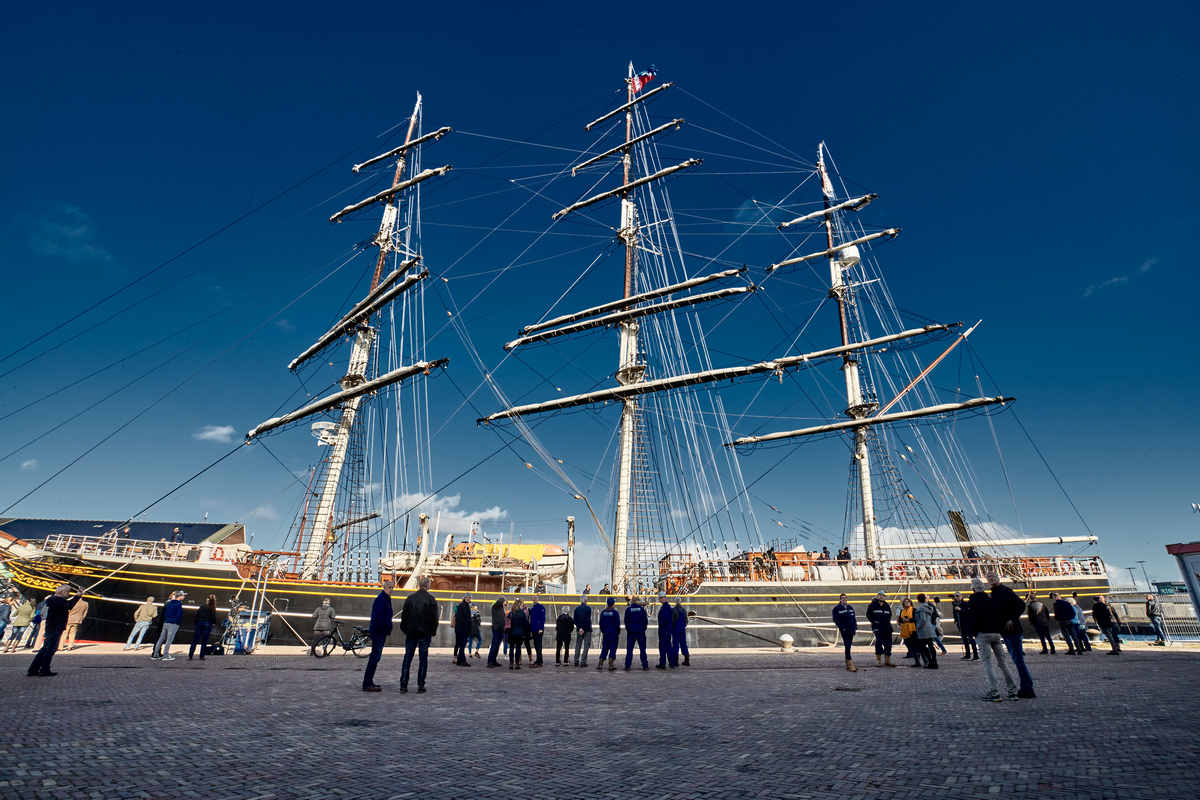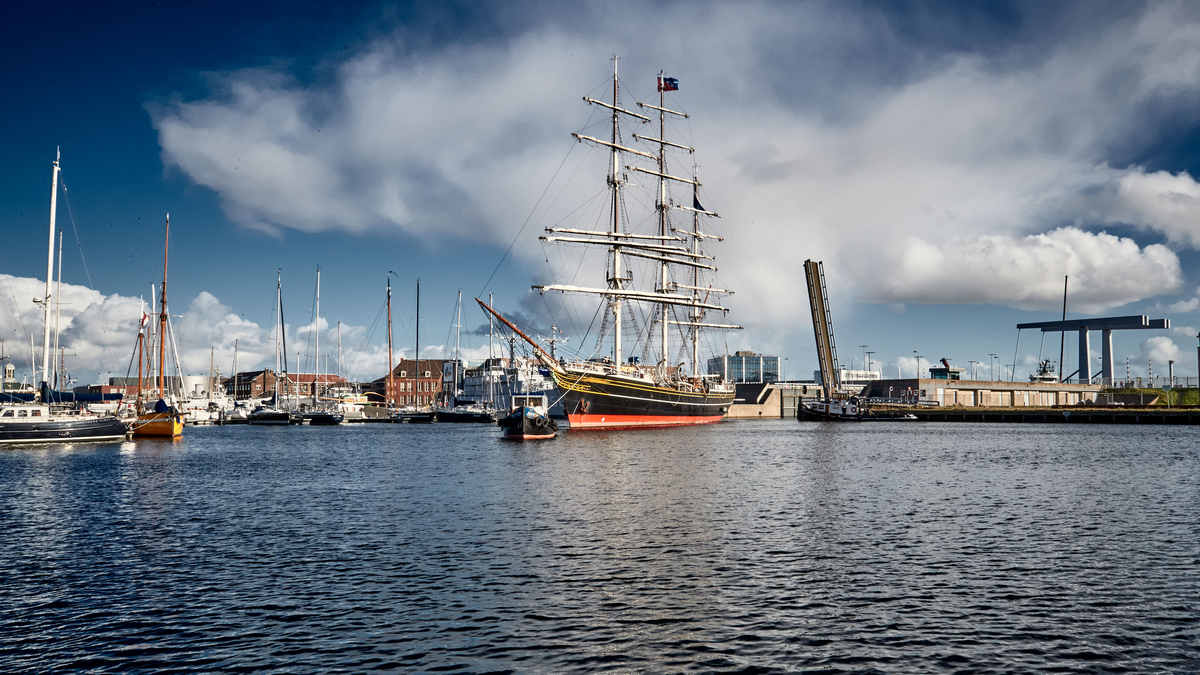 FOR FURTHER INFORMATION PLEASE CONTACT
Ben Littler
Communications Advisor
+31 (0) 183 65 5546
+31 (0) 610 46 5742
ben.littler@damen.com
www.damen.com
For questions related to the Clipper
Stad Amsterdam
:
Hester Ozinga
Freelance Communication Professional & Venue Media Operations Coordinator
+31 06 42 13 57 34
hester@hestag.com
www.stadamsterdam.com