---
May 18 | 2022
Philip Bacon Leads Engaging Workshop at Breakbulk Europe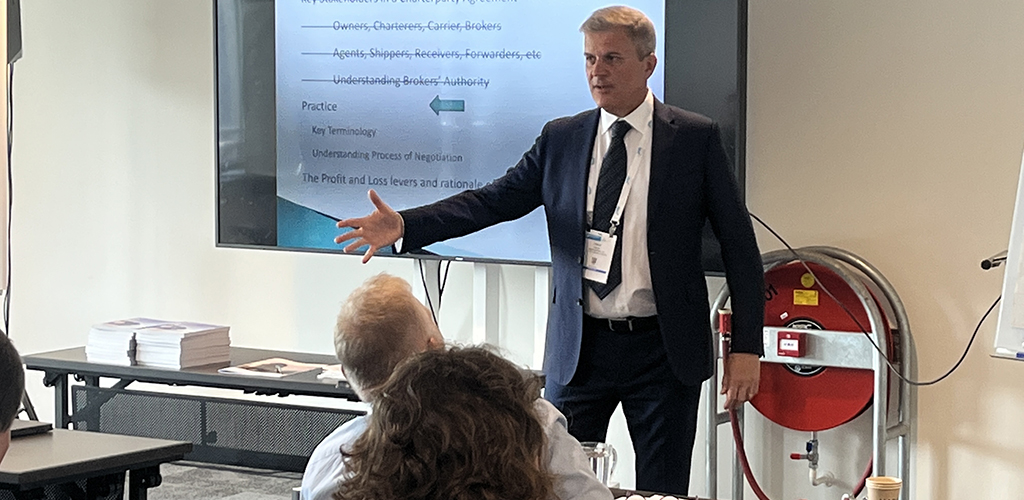 By Simon West
BREAKBULK EUROPE WORKSHOP:
Breakbulk Europe 2022's first day kicked off at the Rotterdam Ahoy with a workshop aimed to give full-time chartering professionals as well as those who work with chartering contracts a clearer understanding of the practice's principles and applications.
The instructor for the all-day session was Capt. Philip H. Bacon, vice president of operations at shipowning group Siem Shipping Inc., and Fellow of the Institute of Chartered Shipbrokers.
"For practitioners, the takeaway will hopefully be a panoramic – albeit brief – of the essentials relating to the other parts of the chain which they do not work in daily," said Bacon, whose four-decade career has included extensive training in the commercial, management, contractual and legal aspects of shipping.
"As the term implies, in a chain there are links to other segments which one often knows little about. Many people dealing with breakbulk transportation are not maritime professionals, as they are on one of the ends of a chain."
The workshop covered a number of key topics including major cargoes and trade routes, chartering terminology, shipping and market sector definitions, bills of lading and the advantages and limitations of shipbroker authority.
The session, which included two networking coffee breaks and lunch, also explored the profit and loss levers and rationale of breakbulk cargoes, key stakeholders in a chartering contract and demurrage and despatch across different sectors.
"For all, it is an opportunity to step back and rethink the basics of this segment of shipping. As the services are commercial, the contracting is essential," Bacon said.
Among the dozen participants attending the workshop were brokers, port agents, energy executives, carriers and cargo owners.
Renate Verhoeven, purchasing manager at Rowood, a Netherlands-based importer and wholesaler of timber and wood-based panels, said her company was considering shifting to breakbulk from containers as a way to improve supply.
"A lot has been covered in this workshop, right from the basics, so it has been really good. It is really teaching us a lot, giving us all the terms and everything you need to know. As cargo owners it is a great way to learn."
Nima Yedegary, a freelancer working in project shipments, signed up to the session as a way to provide better services for his clients.
"Shipping changes on a daily basis, so it is important to understand what is happening in the market, and to have a forward-thinking approach. To provide better services you have to increase your knowledge."
Breakbulk Europe 2022 is taking place from 17-19 May at the Rotterdam Ahoy Convention Centre. It is not too late to
register
!