---
Mar 06 | 2023
Significant infrastructure already in place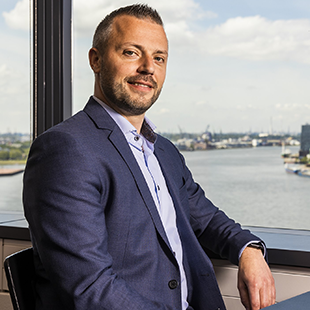 Port of Rotterdam has a stated aim to become the international hub for hydrogen, where import, production, use, trade and transit all come together. By 2050, it plans for some 20 million tons of hydrogen to be routed through the port. The Port Authority is working with various partners towards the introduction of a large-scale hydrogen network across the port complex.
Randolf Weterings, programme manager for electrification and hydrogen at the Port of Rotterdam Authority, said to Breakbulk: "In Rotterdam we already have a significant hydro-gen market and infrastructure. We will use that knowledge and asset base to scale it further up to 20 million tons eventually by 2050."
Rotterdam sees an important role for itself in fulfilling the EC's REPowerEU plan. It projects that it will be able to provide Northwest Europe with at least 4.6 million tonnes of hydrogen in 2030 – close to a quarter of the EU target.
Weterings noted that to achieve this, policy wrinkles need to be addressed. These include the enabling of a legislative framework that attracts investors and provides certainty to both European and non-European actors; a robust certification system for hydrogen imports that will be operational by 2023 at the latest; market development focused on both development of new private pipelines and infrastructure in addition to reuse of existing pipelines; and stimulating 'first-mover' projects to speed up the construction of the necessary infra-structure for hydrogen imports.
He also acknowledged that the entire value chain needs to be developed to support the expansion of hydrogen. "This starts with the expansion of renewable energies and extends to the development of pro-duction facilities, including CCS for blue hydrogen, and the backbone and pipeline infrastructure to transport the hydrogen further. It is also important to create the conditions for the use of hydrogen in industry."
"We see that parts of the value chain are manufactured all over the globe and will come as sub-systems to the factories. Think about electrolyser stacks, transformers, compressors, and so on, which are really big pieces of equipment. Therefore, we definitely need sufficient logistics, which fits well with the developments in the break-bulk sector in the Port of Rotterdam," Weterings said.
What is needed to support future hydrogen development? He said: "The task is so big that it is a matter of scaling up. This development has just begun and is not yet finished. How-ever, you do see that, for example, in the industry and mobility/fuel sector, using more hydrogen also requires new investments. Those investments are also coming."
To learn more about hydrogen projects, visit Breakbulk Europe where one of the Main Stage sessions will cover this hot energy topic.