SUCCESSFUL TOGETHER: GET THE MOST OUT OF BREAKBULK EUROPE 2019
Take a look at the marketing options below available to you—all are free unless otherwise noted. What looks good? We also have a new menu of exhibitor paid add-ons to really boost your brand at Breakbulk Europe. Let us know what you want and we'll get your marketing campaign started!

Important: For all technical information and exhibitor resources, please click here.
Personalized Email Banner
Designed with your logo and stand #, our banner is a great way to promote your participation in Breakbulk Europe 2019. Use it in your company email signature, customer mailings and post to your social media channels.
Personalized Invitations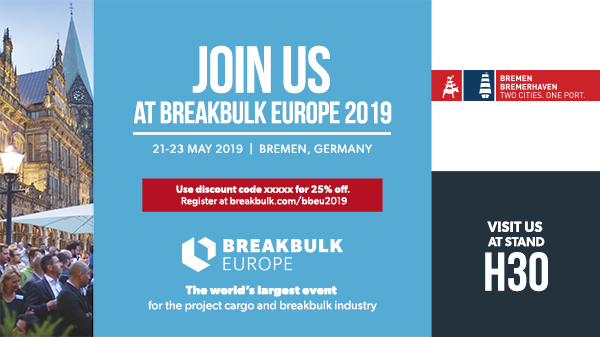 The best way to make sure your customers visit you at BBEU2019 is by sending personalized invitations. We know this can be a lot of work, so we've made the invitations for you, including your personal company code offering each customer a 25% discount off all registration options. Use it in emails, add it to your company website and post to your social media channels.
VIP Passes
Every exhibitor receives and extra five free passes for top customers. New this year, these passes are included with your pass allocation in the exhibitor registration system. If you'd like to send an invitation, we're happy to make it for you. Once you receive a positive reply from your client, you may register your guests in your registration account.
Company News
We'll help you spread news of your accomplishments and expertise to thousands of breakbulk industry members. Company news will be posted to the Breakbulk Europe website in the Exhibitor News section. Choose from three types of news:
Press release with photo and/or video
Cargo transport/job description, new product or other company news with a photo and/or video
Photo with caption or video
Your news will also be posted across Breakbulk social media channels.
Photo & Video Contest Display
Put your company in the spotlight! We host four photo and video contests each year. Each has a theme around moving project cargo and breakbulk. For Breakbulk Europe 2019, we will run a water-themed contest for all types of marine transport. All submissions will be featured in the photo and video contest display at the event. This year's display is sponsored by the Port of San Diego.



Download the Breakbulk Europe 2019 Logo

Spread the word and use the Breakbulk Europe 2019 logo in any of your additional marketing materials. Use password bbeu2019 to access all versions of the Breakbulk Europe logo. Download here >>
---
Need help? Ask the marketing team!