---
Aug 09 | 2019
SANY Europe have had a very busy 1st half of 2019. Several orders have been secured and machines have been delivered and will be delivered in the coming months. Here is an overview of some of the major orders.
Visit
SANY
at Breakbulk Europe, stand D50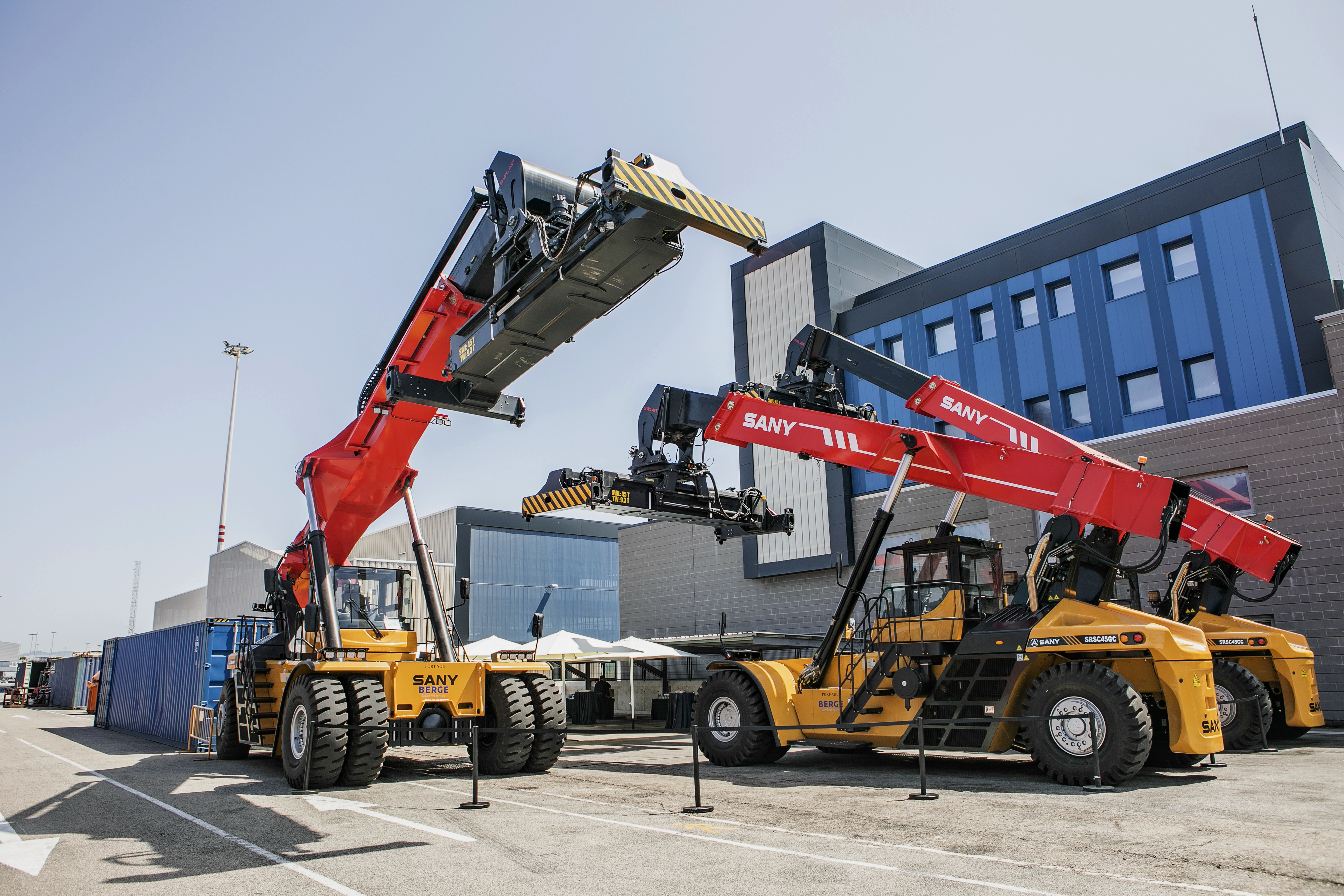 SANY 4531 reach stackers lined up before the ceremony in Port Nou
Alone in Q1 a total number of 15 units reach stackers and empty container handlers were booked from UK customers, all sold by the UK representative Cooper Specialised handling Ltd.
Goldstar Transport Ltd., UK
3 units 4531 reach stackers were supplied to Goldstar Transport Ltd. as part of their expansion of the Company's off-dock container storage across UK. Goldstar now has 6 SANY units in their fleet and has been a customer since 2015.
Chris Barnes, Sales Director for Cooper commented: "Repeated business is always an excellent barometer of customer satisfaction both in terms of machine acceptance and after-sales service, so we are thrilled to play our part in this expansion". Chris continued "The SANY machines are not the cheapest but Goldstar have identified the merits of the machine in combination with Cooper's support."
Jann Rene Hansen, Sales Director for SANY Europe commented "We are very happy to see Goldstar coming back to order more machines from us, which we also can link to the excellent support given to the customer by our dealer Cooper."
Associated British Ports, UK
2 units 4540 intermodal reach stackers have entered service at the ABP Hams Hall Rail Freight Terminal near Sutton Coldfield. Located just 8 miles from the centre of Birmingham in the heart of the Midlands, ABP Hams Hall is a key UK intermodal hub. The new 4540 is the 7000mm wheelbase equivalent to the increasing popular 4531 general yard reach stacker.
The 4540 is equipped with the newly developed jacking system, that with the unique sliding rear ballast, gives the operator enhanced capacity without slowing operations down. The jacks and residual capacity arrangements brought a specific comment from David Cooper, Executive Director of Cooper who said: "In reach stacker intermodal operations, operators jacking operations slow driver's down and they only use jacks as an absolute last resort. The sliding ballast helps here and could be the difference between lifting and not lifting without jacks, but its deployment is immediate. Delays in deploying jacks, whilst only matter of seconds down and seconds upwards, accumulate over a working week so time saving in jack deployment increases productivity."
The 7000mm wheelbase machine, together with the sliding ballast and the jacks, will provide ABP Hams Hall with their highest rating capacity machines to lift-off the second rail lines.

Mark Thompson, Head of Asset Management for ABP said: "ABP Hams Hall is a strategic site where we depend upon high performance, reliability and machine availability. We look forward to seeing how the SANYs perform alongside the established brands".

Other features on the SANY machines include a hydraulic sliding cabin, head-up display as well as an ELME 817 toplift spreader which represents a first for SANY in the UK complete with ELME's 'Soft- Landing' system that softens the last 150mm of twistlock engagement.

Jann Rene Hansen, Sales Director for SANY Europe said: "We are very extremely pleased with this order from ABP done by Cooper. It shows me that we are beginning to gain market shares, also with the major operators in Europe, not only based on our strong presence in the UK, but also on the range of machines which we are able to supply to the market now."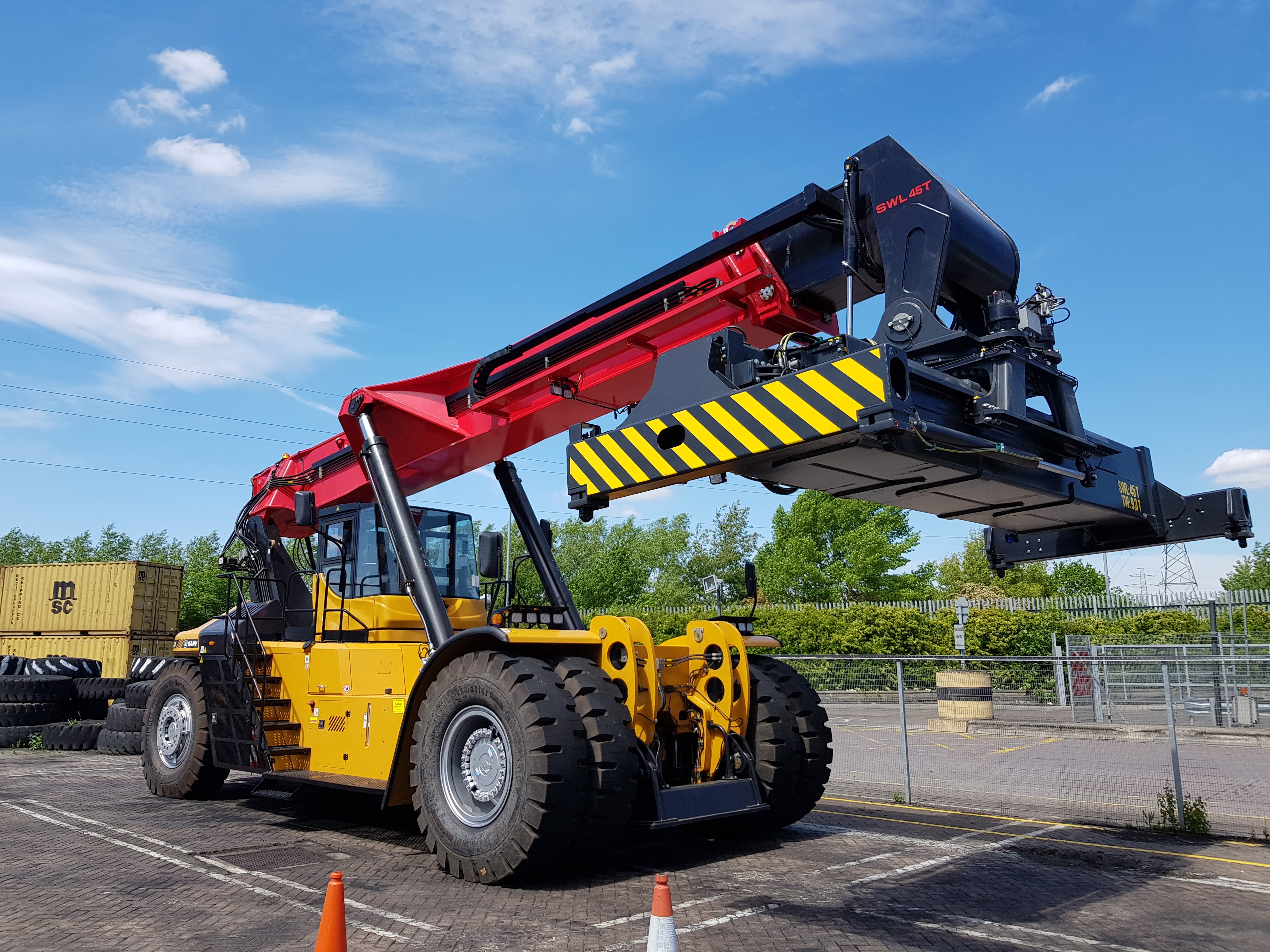 SANY 4540 Jacked reach stacker at ABP Hams Hall

Maritime Transport Ltd., UK
In March Cooper and SANY finalised the contract with Maritime Transport Ltd. for ten machines, in an order that comprises of five reach stackers and five empty container handlers expected to be supplied during August and September this year.

The new contract incorporates three second rail reach stackers for Maritime's new terminal under construction at East Midlands Gateway due for completion this Autumn, as well as two of the award- winning H9 reach stackers for its facility in Tilbury. The five single and double empty container handlers are due to be stationed across its container depot network. All machines will be supplied in Maritime colours.

Maritime's partnership with Cooper commenced back in 2010. Chris Barnes, Sales Director for Cooper said: "Having formed a partnership nine years ago, this contract represents a tremendous performance barometer with one of the largest container handling fleets in the UK. As Maritime have grown, we have grown with them, and we remain committed to an engineering presence wherever Maritime requires it."

This contract will be a direct purchase with all ten machines being supported by Cooper's specialist after-sales division, Cooper Handling Solutions Ltd. with a dedicated maintenance contract.

Stuart Wardlaw, Fleet Director for Maritime Transport Ltd. stated: "Our relationship with Cooper is a strong one, and we are delighted to be making this investment in new and modern equipment to help ensure we're able to service our customers quickly and effectively at each of our container and rail terminals."

Jann Rene Hansen, Sales Director for SANY Europe commented: "We are very proud that one of the major terminal owners in the UK have chosen to place an order like this with SANY. An order for ten units we do not see that often here in Europe, and we have been able to manufacture the machines in a fairly short time. I would like to thank Maritime for the trust in SANY and Cooper."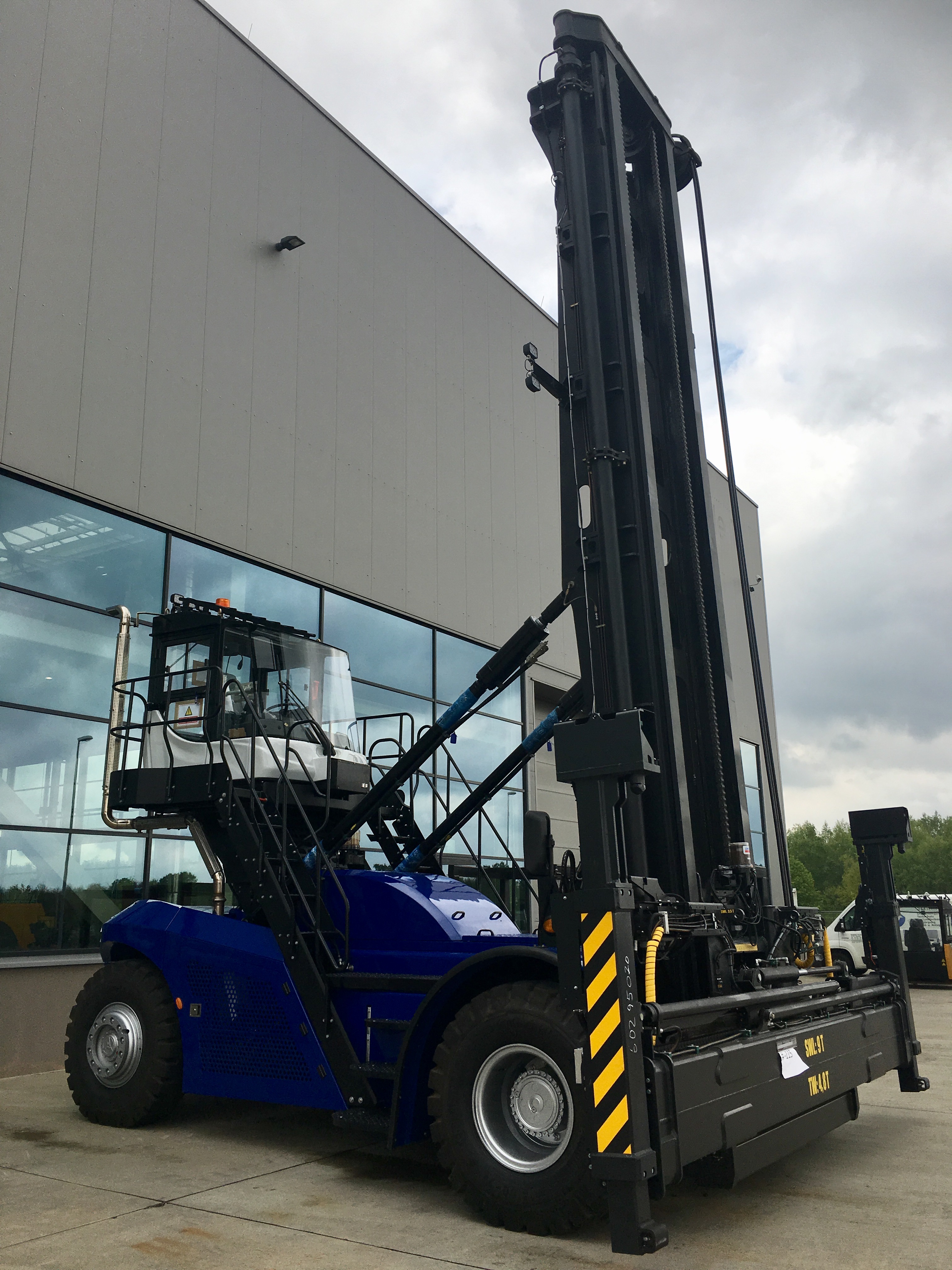 SANY empty container handler in Maritime colours being prepared for delivery in Germany

BERGÉ, Spain
In June BERGÉ, Terminal Port Nou, Barcelona put three units 4531 reach stackers into operation after a delivery ceremony held on June 27th.

The ceremony included speeches from Ignacio Gomà, Managing Director of Port Nou, Richard Deng, Managing Director of SANY Europe, Thierry Rocaries, Managing Director of BERGÉ Port Operations and Mercé Conesa, President of Port of Barcelona and was ended with cocktails to celebrate the delivery of the three new machines.

The machines are supplied on a 5-year rental agreement with option to buy. Jann Rene Hansen, Sales Director of SANY Europe said: "We are thrilled about this opportunity to deliver reach stackers to one of the major port operators in Spain. This is a first step for SANY into the very competitive but highly interesting market in Spain and we hope that this will open the doors for more machines in the future."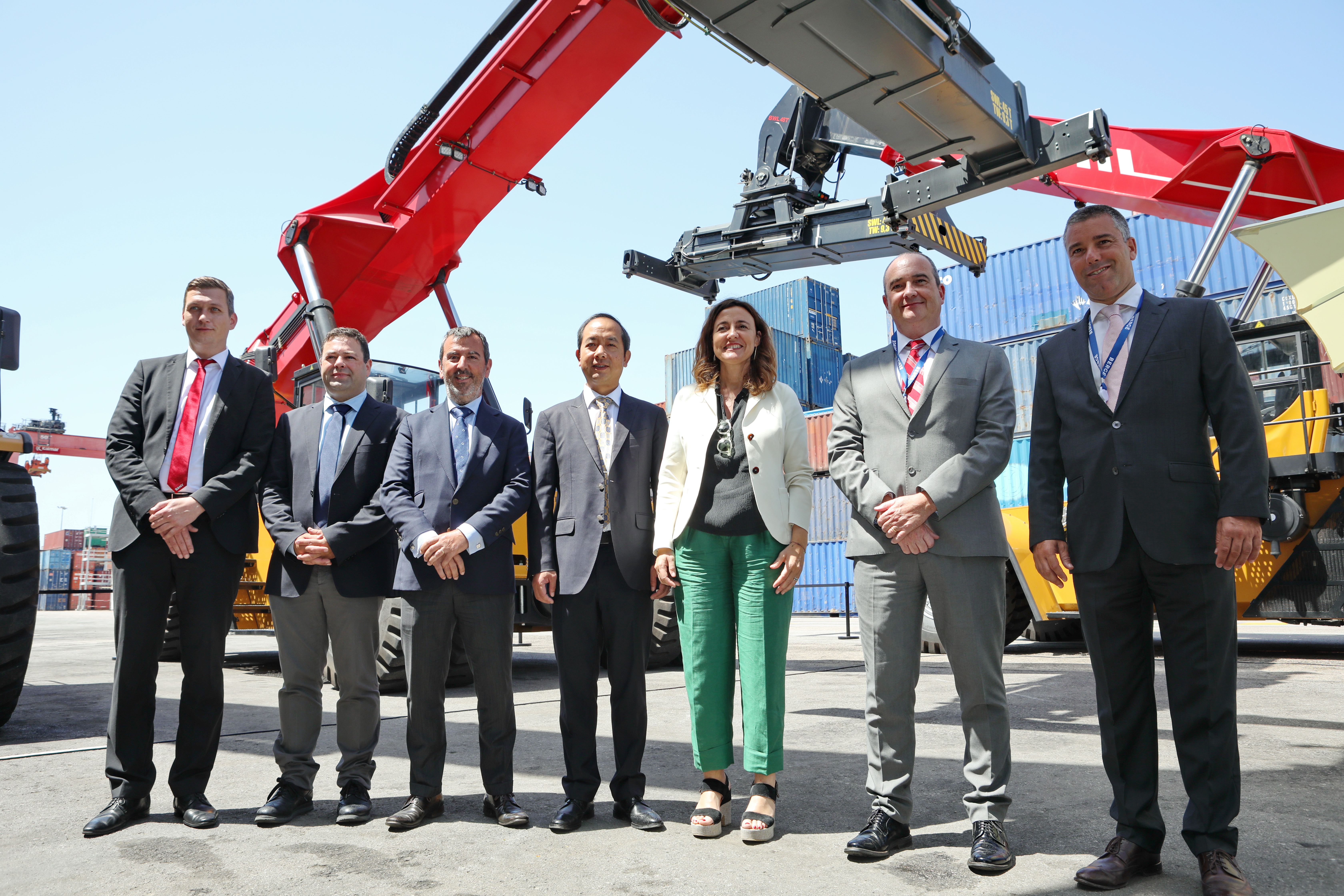 From right to left: Ignacio Gomà - Managing Director Terminal Port Nou, Jordi Casals – Managing Director BERGÉ Maritime, Mercé Conesa – President Port of Barcelona, Richard Deng – Managing Director SANY Europe, Thierry Rocaries – Managing Director BERGÈ Port Operations, Carlos Kohler – Portsolutions, Tobias S. Ling – Key Account Manager SANY Europe

For more information, please contact:
Jann Rene Hansen
SANY Europe GmbH
Jann.hansen@sanyeurope.com
Tel: +49 2272 90531 500
Mob: +49 151 58026 117