---
Sep 21 | 2020
Next week, Breakbulk Europe's digital special will shine a spotlight on sustainability.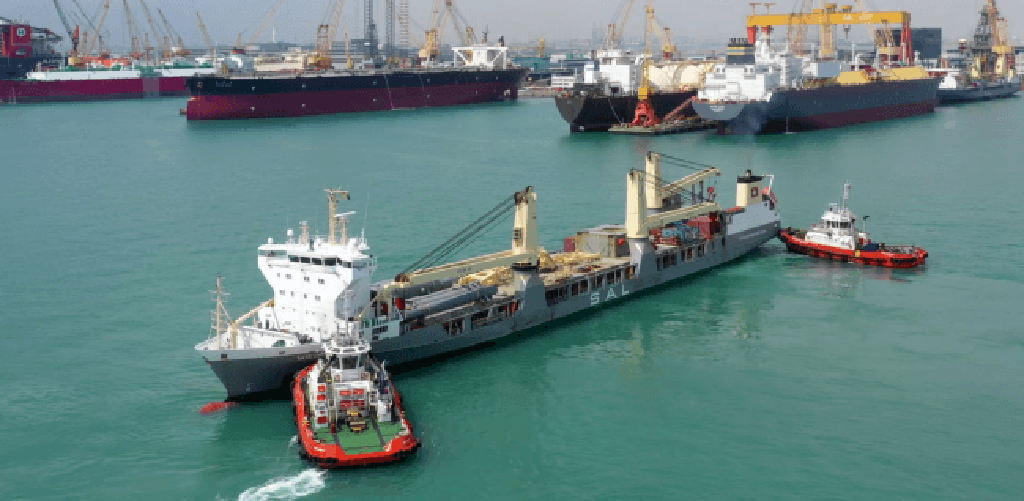 "Growing a Sustainable Future"
, a new webinar from Breakbulk, will gather industry experts who are committed to going green. Be there to learn deep insights into how, despite COVID-19, the project logistics industry is adapting to build a cleaner, greener future.
In the meantime, see below for a quick overview of how some of breakbulk's top companies are doing their bit to improve sustainability.
Green logistics in breakbulk
Why sustainability?
The headline goal for sustainable project cargo logistics is simple: cut down on emissions; reduce greenhouse gases; lower the industry's climate impact.
There are also other benefits away from the purely environmental.
By switching to renewable energy, for instance, ports may be able to provide clean power to tenants and visitors at a lower cost. This is something that has been explored at the Port of Vancouver, Canada, for more than a decade.
Additionally, there is a human element here. Sustainability does not mean just going green. It also means protecting workforces around Europe and the world too.
Otherwise, the arguments for sustainable project logistics include:
Lower emissions
Cost savings
Protected, motivated workforces
Which breakbulk firms are spearheading sustainable thinking?
"Sustainability has just continued to rise up the corporate agenda," Roger Strevens, vice president of global sustainability at Wallenius Wilhelmsen,
told Breakbulk ahead of his participation in "Growing a Sustainable Future."
It's very true that Wallenius Wilhelmsen is one of the global leaders in realigning its business with green logistics. Its Lean:Green programme lays out six key steps about how the carrier is achieving its sustainability goals:
Drive progress through initiatives that are both lean and green
Focus on high impact changes, for people and the environment
Advocate for environmentally sound regulations
Find and fund "Lean:Green" technologies and sustainable solutions
Embrace transparency; be visible and be credible
Leverage the company's sustainability expertise for commercial value
One of Wallenius Wilhelmsen project, which actually folds into a wider maritime initiative, is research into a new fuel.
Alongside partners Danish shipping line AP Moller - Maersk, the carrier recently joined forces with retailers and academic groups to develop an alternative low-cost marine fuel known as LEO, a blend of lignin and ethanol, as a reaction to this.
Maersk alone acquired $5bn in credit to push ahead with its sustainability plans in February 2020. The global shipper wants to reduce its CO2 output by 60% by 2030.
SAL is also preparing to use a new hydrogen/methanol injection technology, FS Marine+, developed by Fuelsave, a German developer of green technology for industrial clients and transport, to reduce emissions and air pollution and increase fuel efficiency within its fleet.
According to a SAL statement, the carrier has been testing a prototype of the technology on the SAL Annette for two years. Additionally, SAL will be retrofitting its fleet to run on this new fuel going forward.
IMO2020 came into force in January 2020, essentially meaning all shippers have to switch to low sulfur fuels.
Agility is pursuing its own ambitious environmental strategy. By 2025, it plans to cut its emissions by 25% from 2016 levels.
Agility Chairwoman Henadi Al-Saleh said: "Green technology is a major focus of our investment strategy, and we're always on the lookout for dynamic new businesses that can revolutionize the supply chain to help protect the planet. We are looking at innovative solutions that drive business value by reducing costs, increasing efficiency, and reducing energy consumption at the same time."
Hybrid truck technology firm Hyliion and solar tech firm TVP Solar will be on the receiving end of $18m investment from Agility as part of the logistic firm's wider sustainability commitments.
Europe leading the green conversation
According to the Getting to Zero Coalition, Europe is at the forefront of sustainable shipping.
Getting to Zero is a worldwide association of shippers and maritime logistics companies that, as the name suggests, are collaborating to drastically drop emissions from sea transport.
The group's goal is to make zero-emission fuels and technologies for the maritime industry commercially viable by 2030.
As of August 2020, Europe is leading the way in this regard.
The Coalition has analysed 66 projects from across the world and reiterated its call for the industry to utilise alternative fuels and green technologies.
The vast majority, 49, came from Europe – far outstripping the 16 Asian developments.
Europe-based projects are also more likely to receive government support, which increases their chance of succeeding.
"The majority of projects covering fuel production focus on green hydrogen which is largely due to hydrogen's position as a building block for the production of other fuels such as ammonia or methanol," said Kasper Søgaard, head of research at the Global Maritime Forum, a Getting to Zero Coalition partner.
Join the sustainability conversation at Breakbulk Europe
Are you looking to find partners committed to greener project logistics? Maybe you have new sustainable tech solutions you want to showcase? Then be at Breakbulk Europe.
The event will return in 2021 to help connect all players in the project cargo ecosystem for all-important networking, deal-making and financial year planning.
If you would like information on the future event, please
contact the team today
.