---
Sep 04 | 2020
Interview with Javier López Oliver, Senior Logistics Project Manager with Abengoa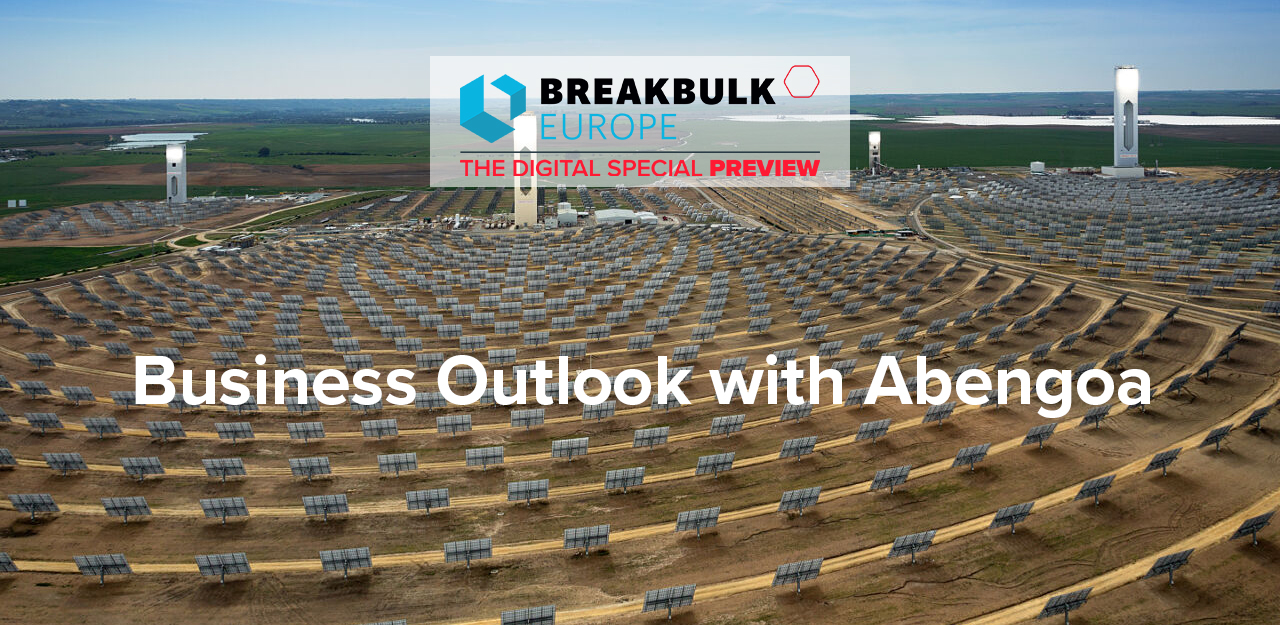 Business insight from Abengoa's Javier López Oliver who is a senior project logistics manager who works around the world on a variety of renewable energy projects. His enthusiasm and commitment to the development of green energy are unwavering even in the face of COVID-related challenges. In fact, environmental concerns are fueling Abengoa's strategy as it looks ahead. Javier will join the panel "Business Outlook: How the Project Sector is Adapting to the New Normal" webinar on 29 Sept. as part of Breakbulk Europe: The Digital Special.
What we're working on
All of the projects I'm working on are related to climate change and green energy. For instance, we have a project in Nevada, USA, the Sierra Biofuels project near Reno, which is the first of its kind to produce biofuels from municipal solid waste. This is a pilot project and we plan to build 30 or 40 replicas of this plant. We also have several big projects in the Middle East, including , the biggest solar plant in the world, as well as Rabigh 3 in Jeddah, which is the largest reverse osmosis desalination plant in Saudi Arabia. (Earlier this year, Abengoa won a follow-on project to Rabigh 3 to build the Jubail 3A reverse osmosis desalination plant.)
Challenges we're facing
Things are going quite slowly these days due to the COVID situation and its impact on transportation such as air where most of the industry is at a stop for passengers. The Nevada project is going much slower than expected, but we should be finished next year.
COVID-19 adaptations
We have changed our priorities regarding long and short supply chains because some countries have stopped production or slowed it down significantly. We are now looking much more for local workforce because our team has not been able to travel outside Spain and some countries have closed. So, local teams have become much more important than before the pandemic.
What are your priorities as you look forward to 2021?
It's very difficult to know what is going to happen in the coming months. Due to COVID, the areas that you think are safe later on become unsafe. For example, in Europe we thought we had control over the virus, but now in Spain and France, the situation is becoming much worse.
What we think is an opportunity is related to climate change. We really believe that people are going to focus doing things in a very different way. There will be a greater demand for water due to the potential increase in temperature. The focus on climate change means a very nice future for us.
How does a focus on green energy and sustainability put you in a better position for the future?
I agree completely with that point. This focus covers a range of issues, including technology, which we have seen accelerate over the past few months. More companies, including logistics firms, are now embracing technologies such as robotic systems using artificial intelligence and so much more. These were always on the agenda, but right now, our industry is moving forward much faster due to the situation.
See the full interview

---
ABOUT JAVIER

Javier is a senior logistics manager with more than 20 years experience in the solar and energy sector, working on both sides of the market. First as a supply chain provider with Kuehne+Nagel, Norbert, Fiege, etc., and then working for main players in the market, including Sunpower and Abengoa. As project cargo manager responsible for key projects at Abengoa over the last six years, he has managed projects in USA (Fulcrum) and Middle East, such as DEWA IV in Dubai, the biggest solar plant in the world.
Abengoa is an international company that applies innovative technology solutions for sustainable development in the energy and water sectors with more than +10GW installed power. Abengoa has a global presence with a recognized position of leadership in main world rankings (GWI, ENR). More details in
www.abengoa.es/export/sites/abengoa_corp/resources/pdf/noticias_y_publicaciones/Presentacion-Corporativa-2020-EN.pdf