Dear Runners and Business Friends,
Together with our sponsors BBC Chartering, ITJ, Martin Bencher, Port of Rotterdam, Broekman Logistics, HELD Shipping and FAST52, we invite you to participate at the:
47th BUSINESSrun Breakbulk Rotterdam on Wednesday, 18 May
Where:
World Port Center (Port of Rotterdam Headquarters) at Wilhelminakade
When:
7:00 - 7:15 check-in and warm-up; run starts at 7:30
Fee:
€35 (all proceeds go to charity)
This event is a run, not a race. Everybody is welcome.

The run will be opened by Mare Straetmans. Mare is known to the industry for his achievements within innovation and maritime. He has been working on building new ventures including Platform Zero, digitalisation of Van Oord, setting up innovation at the Port of Rotterdam Authority, setting up venture funds and as Founder and Managing Director of PortXL, Mare built the first global maritime accelerator in Port of Rotterdam, Singapore and Antwerp. More recently, Mare became a Co-Founder at Green Swan Partners.

In sports, after having developed a love for "Behind-the-Back" passing in basketball, Mare shifted to squash where he entered the top 300 in the Netherlands.

This run starts Wednesday morning, 18 May, at 7:30 am sharp. Please come early and latest at 7:15 for warm-up and for greeting your co-runners.

After a warm up exercise conducted by our professional running coach, we will run around pedestrian zones and the park area in the City of Rotterdam. The loop is about 5 km or 10 km. There will be a faster group for more ambitious runners, and a slower group for newcomers. The starting point is in front of the World Port Center (Port of Rotterdam Headquarters) at Wilhelminakade. You can leave your belongings at the starting point.

The finish point is also at the World Port Center, where refreshments will be offered. There will be ample opportunity for networking with sponsors and co-runners then.

The participation fee is EUR 35,00 which is donated entirely to Playing for Success, Feyenoord Basketball's elevator program for challenged youngsters: https://www.playingforsuccess.nl/rotterdam-topsportcentrum/

Every participant will receive a specially designed running shirt at the starting point. We are proud to share with you that the 2022 editions of our running shirts are made out of OceanWaste Plastics. We will be at the starting point from 7:00 am, please be early and bring exact change or show your Breakbulk Europe 2022 confirmation as the hand-over of shirts is usually a tight exercise. After the run, you will receive a listing of all participants for networking purposes. Therefore, please note that your contact data will be shared with your co-runners. Also photos may be used in public media and for future invitations.

Add the run to your Breakbulk Europe 2022 registration!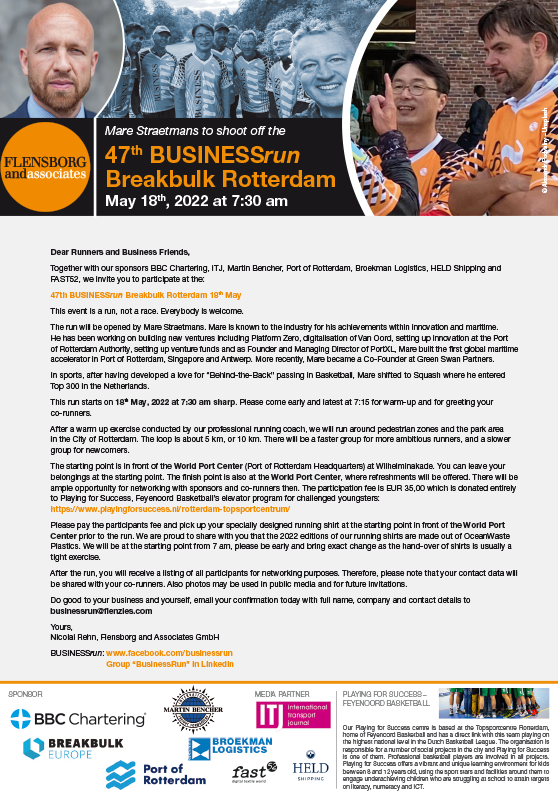 For more information, contact:
Nicolai Rehn, Flensborg and Associates GmbH
businessrun@flenzies.com

BUSINESSrun participants: Join us on social media!
On Facebook: www.facebook.com/businessrun
On Linkedin: Group "BusinessRun"

Click the flyer image to download.