---
Women in Breakbulk Breakfast: Europe Edition
(Sponsored by GEODIS)
Wednesday, 18 May 2022
10:00 - 10:50
Rotterdam Ahoy
Free to attendees

In a predominantly male-dominated industry, women are steadily making their mark. To encourage further inclusion, Breakbulk Europe will host a Women in Breakbulk Breakfast on Wednesday morning. This is a meeting place for women make connections with female colleagues from around the world on the opening morning of Breakbulk Europe, and then have the opportunity to meet up over the days of the event.

The breakfast's theme is #breakthebias, an extension of the 2022 International Women's Day focus. Look forward to a panel discussion on strategies attuned to this important issue following the breakfast networking portion. We'll end at 10:50 to allow time to join the oopening of the Main Stage sessions at 11:00.

If you'd like to participate:
Register for Breakbulk Europe and add the Women in Breakbulk Breakfast item (it's free)
Join the Women in Breakbulk networking group by submitting the form below
Email your photo, company logo and a brief statement on the importance of women in the industry or advice to female colleagues if not already included on the form, to Leslie Meredith, and we will show the members on the big screen at the breakfast. This is a great way to show your company's support for women in the industry.
The focus on women does not stop at the end of Breakbulk Europe 2022. Our editorial staff offers continuous coverage of female leaders, issues of importance and career advice. Visit the Women in Breakbulk article hub to see all of our articles.








Sponsored by GEODIS
https://geodis.com/gb/
---
Meet the Speakers:
Alexa Sinyachova, CEO & Founder, Moeco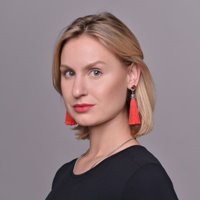 Alexa is Ukrainian. She is the Co-Founder & CEO at Moeco and WTech Berlin curator. Alexa has a global business executive and entrepreneur with over 12 years of experience in the digital transformation between industry and technology.

Moeco is an end-to-end solution for logistics. We reduce manual costs and improve the quality of service using Big Data.
We offer cheap and disposable mini-trackers in stickers format & software platform with real-time data about shipments location, conditions, and shock detection. Data processes in Moeco Dashboards from 180+ countries, 100% of data belongs to clients.
Leslie Meredith, Marketing & Media Director, Breakbulk Events & Media