Breakbulk BUSINESSrun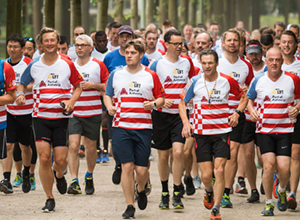 A Breakbulk tradition!
Bremenports global marketing director and sports enthusiast Michael Skiba kicks off the 41st annual BUSINESSrun at Breakbulk Europe 2019. Participants can choose from two speed groups and either a 4km or 9km track around Bremen's lovely Bürgerpark.
Start and finish at the Maritim Hotel, where refreshments are offered. There will be good opportunity for networking with sponsors and co-runners then. Event fee of EUR 30,00 is donated entirely to the Bürgerpark in Bremen which is maintained entirely from private donations: www.buergerpark.de
To register, email your confirmation with full name, company and contact details to: brBRE@flenzies.com The run is limited at 100 participants. Visit the BUSINESSrun booth during the Breakbulk Europe Opening reception May 21st to pay the participants fee and pick up your special designed running shirt. Look for it near the registration desk 4:30 pm to 6:30 pm. You may also pay and pick up directly at the run location May 22nd beginning at 7 am.