---
Jun 03 | 2021
Collaboration Imperative for a Successful Logistics Journey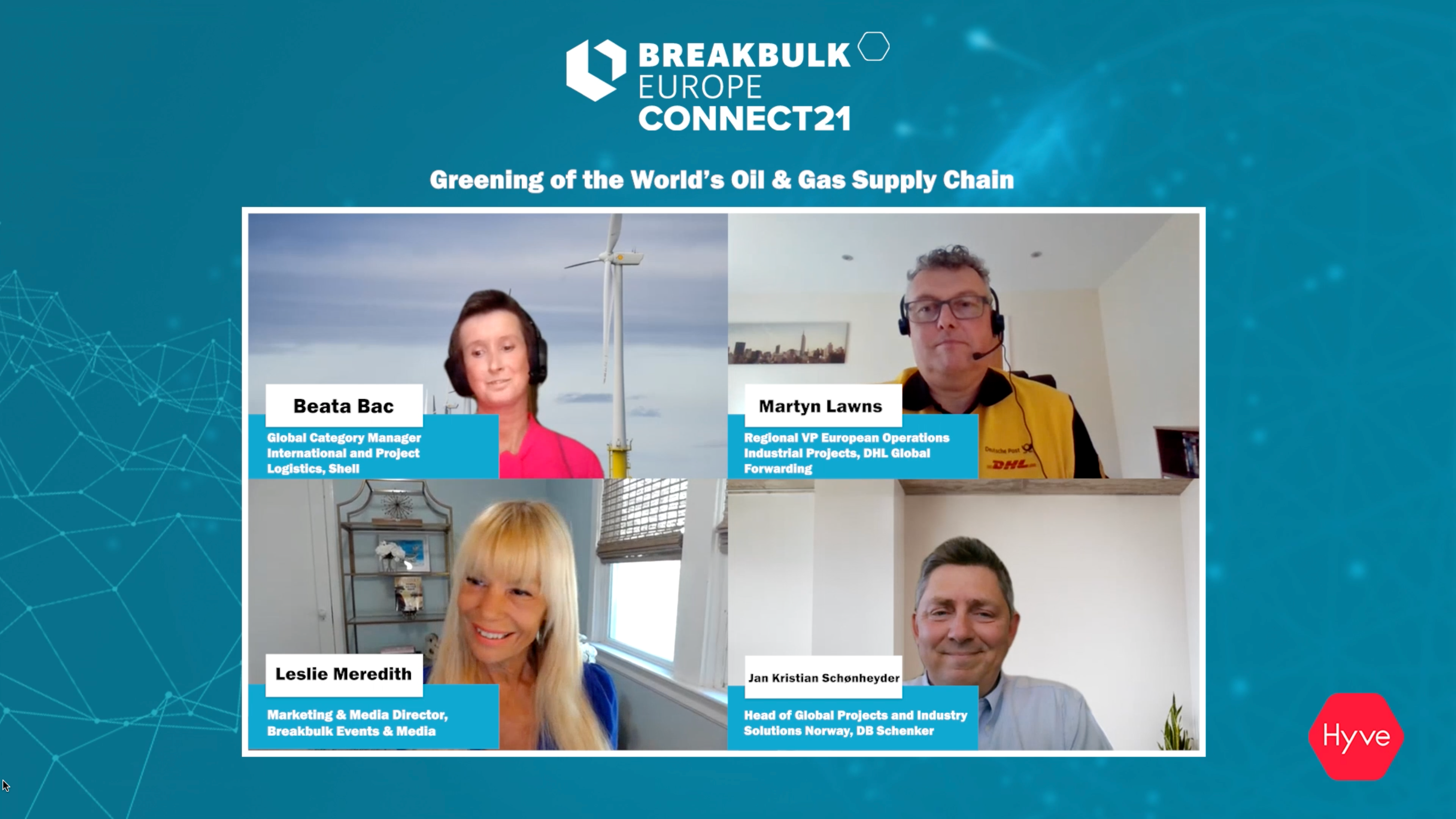 By Carly Fields
Transparency of carbon options for any user of logistics and being clear on the decarbonization pathways sector by sector will go some way towards shifting the dial on reducing carbon emissions from the breakbulk and project cargo sector, a Breakbulk Europe Connect21 session concluded. The panelists included Shell, along with two global project forwarders who were selected by Shell because of their strong track record of collaboration with the oil & gas major.
In the "
Greening of the World's Oil & Gas Supply Chain"
webinar, Beata Bac, global category manager international and project logistics at Shell, said that while there are answers to decarbonizing that are specific to each industry, there are some common solutions that can be adopted more widely in the logistics space. One, she said, is being more energy efficient and using lower carbon energy products and solutions.
Bac also urged stakeholders to listen to one another. "I've been asking myself 'what is my expectation on sustainability of the partners I work with?' Being able to collaborate and co-develop that journey to sustainability in logistics and the wider supply chain is truly important. For me, that means creating transparency of options and transparency of trade-offs across multi-tiered supply chains. Looking at the product life from design to disposal is truly important."
Martyn Lawns, regional vice president of European operations, industrial projects at DHL Global Forwarding, agreed that deciding on what to measure when it comes to emissions is critical. "We measure well to wheel at DPDHL (Deutsche Post DHL Group), meaning we measure our CO2 emissions from production of the fuel." DHL has created carbon calculators, where users can enter the transport mode into the system and calculate the CO2 emissions depending on that mode, whether that's air freight, rail or road.
Decarbonization Marker
Asked to give an indication of where the logistics industry is in terms of its decarbonization target of zero carbon by 2050, the panel gave a banding of 20 percent to 30 percent. The specialists then considered how the industry can speed up its journey to full decarbonization.
Jan Kristian Schønheyder, head of global projects and industry solutions Norway at DB Schenker, said projecting on decarbonization the same attention that the industry currently commits to health and safety could yield promising results. "The lifesaving rules and the HSE focus that we see in our environment have a target and ambition of zero harm during operations. Putting in place policies that bring the same attention into sustainability could from an industry perspective really accelerate the journey."
Lawns, meanwhile, called for greater standardization in terms of measuring emissions, describing a "nirvana" where everyone is measuring on the same basis.
Bac added that for her, it is critical that stakeholders sit down together and look at the "root causes of selection" of one logistics system over another. "I really like to have KPIs and a baseline as this drives change, but I do think that we have to sit down and work out together what do we have to do with these KPIs and then what are the solutions."