---
Jun 03 | 2021
Capacity, Equipment, Fuel Choice Also Pressing Issues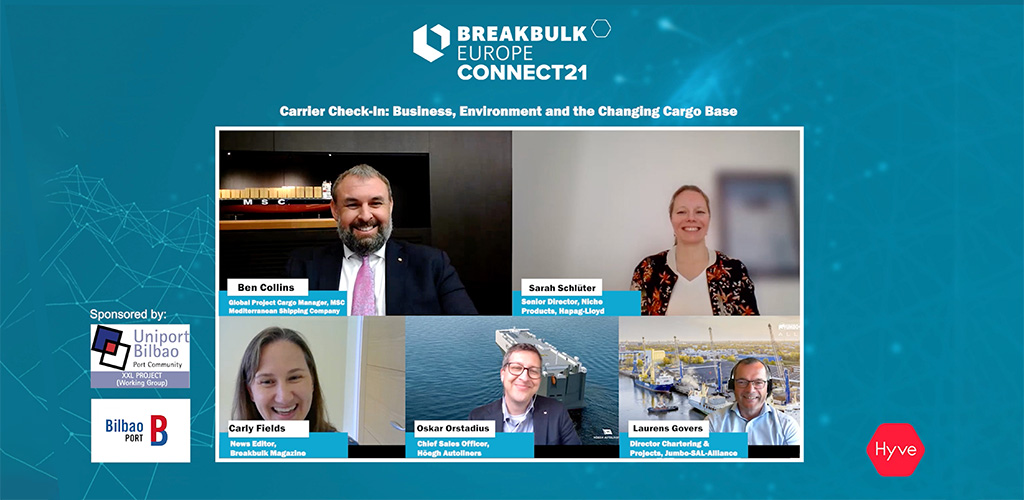 By Carly Fields
Breakbulk cargo carriers have wholeheartedly welcomed surging sea freight rates, but a red-hot freight market has thrown up its own problems.
Speaking on a Breakbulk Europe Connect21 panel ("Carrier Check-in: business, Environment and the Changing Cargo Base"), Ben Collins, global project cargo manager for MSC, explained that the strong freight market presents a challenge for everybody in the supply chain, carriers included. "The sooner we can get some normalized operations across the world the better for everyone in reality," he said.
Laurens Govers, director chartering and projects at the newly formed Jumbo-SAL-Alliance, explained that carriers face a very tight balancing act to be able to deliver. This is not helped by the fact that shippers are only now accepting that they need to come earlier to the freight market to guarantee sufficient and/or available tonnage. While shippers may not consider this as the new normal, they have to accept that this is the current state of play, he said, adding that he had seen some cargo volumes shipped at freight rates that exceed their values.
The turnaround in freight fortunes comes after years of unsustainable rates – what Govers referred to as the "perfect storm on the negative side" – and is not before time. "The industry, the clients and the EPCs all knew that the previous situation with the severe competition was not sustainable," Govers said. "If you run the risk that there are only three or four players left because the rest have all disappeared, then that is not a bright outlook."
Container line operators with a presence in the breakbulk market are also enjoying riding this wave. Sarah Schlüter, senior director niche products at Hapag-Lloyd, noted that all trades have increased massively, and some are still increasing. She added that some of the backhaul trades are also currently breaking even.
The freight premium coupled with a shift towards localization – already a feature before the pandemic, but now a political focus of many developed nations – could lead to a faster shift to nearshoring of breakbulk cargoes. Govers said to expect "more domestic, more controlled production from a strategic and cost point of view."
However, MSC's Collins noted that a skills shortage might curtail the potential of nearshoring in the short term. The skills needed have, in many cases, shifted to producing countries, and their return to support nearshoring will not happen overnight.
Oskar Orstadius, chief sales officer at Höegh Autoliners, said the roll-on, roll-off carrier had already experienced a huge shift in production through an agile market and quick production schedules changes in the car industry over the past decade. "We are used to these changes and we have a very agile trading pattern," he said.
Question of Scale
Collins said that scale is important in meeting the demands of shippers in today's market: "From an MSC perspective we have a certain advantage through the scale of our fleet. We have started new services, approximately eight since the start of the pandemic." MSC has also reduced some port rotations, particularly on the transpacific route, to minimize port congestion. "The reality of it is that the lack of predictability of what can happen on some ports on some voyages is proving a huge challenge for all carriers at the moment. It's very difficult to meet the berth slot."
There are also issues related to equipment and in ensuring that the right units are at the right place at the right time. Orstadius said that while the pure car and truck carrier has positioned itself to be balanced in its network, it is experiencing imbalances with cargo-carrying equipment, road trailers and so on. "We need to cope with this and reposition empty equipment," he said.
One fix to the supply/demand imbalance is to bring in new tonnage; the trick is finding the happy medium between balancing the market and oversupplying it.
Three of the four panelists confirmed that they have either ordered or recently taken delivery of new ships for fleet replacement.
Hapag-Lloyd has ordered new ships, but delivery is a few years out. While the carrier waits, it is investing in special equipment to improve its service to customers.
MSC is expected to welcome five new Gülsün-class vessels before the end of the year, Collins said, all of which can carry out-of-gauge cargo.
Höegh Autoliners, meanwhile, has announced plans for its Aurora-class vessels, the largest and most environmentally friendly car carriers ever built.
Jumbo-SAL-Alliance's Govers, representing the only carrier on the panel that has not ordered new ships, observed that "every carrier is trying to get fat on the bones again." He added that carriers looking to capitalize on the current market are already too late and with attractive newbuilding prices yards are already filling up. "Tonnage renewal needs to be conducted so there will be newbuilds," he said. "I just hope it will be more controlled than it was 10 years ago."
Fuel Choice Challenge
The most pressing question for any breakbulk mover looking to order new tonnage is what fuel to burn, especially in light of regulations from the IMO requiring lower carbon and eventually carbon free ships. The panel showcased a mix of approaches to the "which fuel" question.
For its existing fleet, Orstadius said that Höegh Autoliners has completed biofuel trials, delivering carbon neutral voyages. For its newbuilds it has opted for a flexible design, multi-fuel engine, which can run on biofuel, conventional fuels and which with minor modification can transition to carbon zero fuels such as green ammonia.
Schlüter noted that Hapag-Lloyd already counts LNG-ready ships in its fleet and is exploring options for alternate fuel sources.
MSC is also trialing biofuels, but Collins noted that the biggest challenge is scaling these up.
Govers agreed that availability is far from guaranteed once a carrier moves out of a hub port. He also noted that the conclusion from Jumbo-SAL-Alliance's LNG trials was that LNG on a breakbulk vessel is "very challenging."
"Normally [the ships] are a smaller size and the LNG tanks are quite large. It's also impossible to get a hot work permit to secure your cargo." Govers prefers to take a whole shipment approach when it comes to assessing environmental impact. For example, Jumbo-SAL-Alliance looks for optimized logistical packages combining, for example, certain load ports into one shipment or reducing the total number of shipments.